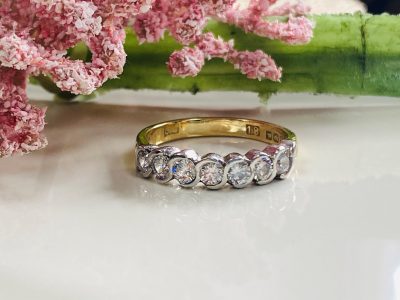 Keep Your Memories Close. Update Your Style!
Nothing holds memories like a precious piece of jewellery. That beautiful ring that belonged to a loved one – what better way to keep their memory alive than to enjoy wearing it, touching it? That chain given as a gift – so rich with so many stories. Or the inherited vintage pendant that recalls a time and a place that is so special, so irreplaceable.
So much more than just beautiful jewellery, a piece of gold can be an old friend, a keeper of memories, a constant reminder of what is special to you. But what if that piece no longer suits your style, or feels too out-dated to wear? Or perhaps you'd love to wear your heirloom ring, but it's missing a couple of stones. At Gleeson Goldsmiths we have the perfect way to help you preserve the past and keep your much-loved memories safe – beautifully.
A Whole New Look
There's no need to leave stunning, inherited fine jewellery lying in your jewellery box because it's old-fashioned, or isn't in keeping with your look. We can re-design and modernise it for you – keeping the integrity of your original piece but updating its style. Just tell us what you have in mind and we'll look at design options.
Out with the Old
We can also turn your piece into a completely new item – using the gold to create to your taste. So if you have a ring that means a lot to you, but feel you would wear it more as a pendant – we'll make the transformation.
Refresh and Replace
If you have an item that needs a bit of TLC, that's no problem either. We can replace the setting of your jewellery, secure and enhance the sparkle of the diamonds, or replace gem-stones – giving it a whole new lease of life. And if the fit of a ring isn't great – let us re-size it to suit. 
Perhaps you have jewellery that is precious to you, but would like the stones changed to ones you really love. Let us replace them and give you a new, bespoke and wearable special piece.
So Many Options
Many of our clients also have jewellery items that mean a lot to them, but the type of precious-metal is not one they would normally wear. In this instance, there are many options available, allowing you to incorporate a different metal that you prefer, without affecting the sentiment of the piece. For example, a yellow gold wedding ring can be fitted with a platinum 'sleeve', to coordinate with the rest of your jewellery.
There are so many ways to make sure your fine jewellery is loved, worn, admired and treasured, and kept alive for generations to come. Just talk to us today.
"Jewellery is a very personal thing… It should tell a story about the person who's wearing it."
 – Garance Doré